"Unboxing" is the sixth episode of season 1 of Bizaardvark and also the sixth episode of the series. It premiered on August 7, 2016 to 1.7 million viewers.
Plot
When Dirk leads the gang in a circle of truth exercise, Frankie learns Paige has been secretly taking MMA lessons and decides to join in on the fun. Meanwhile, Dirk and Bernie get obsessed with Amelia's secret.
Cast
Main Cast
Guest Cast
Kevin Makely as Sensei
Albert Malafronte as Mayor Rollercoaster
Unknown as The Dragonslayer
Trivia
This episode will air at a special time, 9/8c, to make room for the 1 hour K.C. Undercover special, Tightrope of Doom.
Despite this episode being called Unboxing, The Princess Unboxer is only featured in the beginning of the episode.
The Princess Unboxer is revealed to be Dirk.
Bizaardvark, DareMeBro, or Perfect Perfection With Amelia do not make any videos in this episode. The only video shown in this episode is The Princess Unboxer.
This is the first episode to not have any videos from the main characters shown.
No other Vuuugler other than Paige, Frankie, Amelia, and Dirk appear in this episode.
It's revealed Paige does MMA.
This is Paige and Frankie's first real fight/argument in the show.
It's also revealed that Paige has a weakness of tickling.
In this episode, it is revealed that Frankie is addicted to watching Russian soap operas with her neighbors.
Gallery
| | |
| --- | --- |
| | To view the Unboxing gallery, click here. |
Videos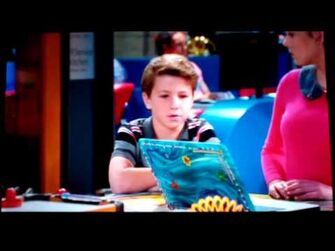 References
Ad blocker interference detected!
Wikia is a free-to-use site that makes money from advertising. We have a modified experience for viewers using ad blockers

Wikia is not accessible if you've made further modifications. Remove the custom ad blocker rule(s) and the page will load as expected.